Gilchrist is More than Hospice
Gilchrist is Maryland's leading nonprofit provider of serious illness and end-of-life care. With elder medical care, counseling and hospice, our life-affirming programs ensure that our patients have the best possible quality of life and the opportunity to live every moment to its fullest.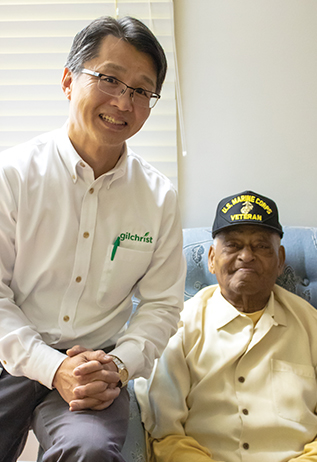 Nationally Recognized, Nonprofit Leader
For more than 20 years, Gilchrist has been a nationally recognized, nonprofit leader. This is because we have always been and will continue to be committed to providing compassionate care and support for people with serious and life-limiting illnesses. Furthermore, our programs offer comprehensive and coordinated care that addresses all of your family's needs. Whether you have needs that are medical, emotional, social or spiritual, Gilchrist can help.
Read more about our services.
More Than Hospice
While you may know Gilchrist best for the care we provide people near the end of life, we also want you to know that we offer so much more than hospice. Because today's Gilchrist extends services to those who have a serious illness and who need care well in advance of hospice, we are able to reach more people in need of our programs. We also provide counseling and support before and after the loss of a loved one.
A message from our Chief Medical Officer:
New to Gilchrist?
Our specially trained care navigators will listen and provide resources both within Gilchrist and in the community. They can assist in getting the care and support you need.
Call 888.823.8880 or email our care navigators today.
Our Mission
To provide counseling, support and care to anyone with a serious illness, so they may live life to the fullest.
Our Vision
We are deeply committed to giving people the clear information and loving support they need to make informed choices about their care.
Where We Can Serve You
Gilchrist provides care and support to families residing in the following areas:
Baltimore City Neighborhood – Serving the entire city
Baltimore County Neighborhood – Serving Baltimore County
Harford County Neighborhood – Serving Harford County
Howard County Neighborhood – Serving Howard, Carroll & Frederick Counties
Luminis Health Gilchrist Lifecare Institute, LLC – Serving Anne Arundel County, Prince George's County and points south
Visit our Locations page to learn more about our locations